Please Register At The Pro-Shop During Normal Business Hours!
Click Here For Registration Form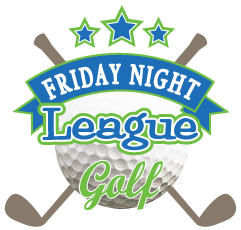 Day:

Friday1

Tee Time:

Any Time After 4:30pm

Format:

Individual Stableford - Each Player Will Play Their Own Ball And Record Their Gross Score For Each Hole. Your League Calculated Handicap2 Shall Be Applied To Each Hole To Determine Your Net Score On Each Hole. Players Earn Points, Using The Stableford Scoring System, For Each Hole Played. The Winner Of Each Session Will Be Based On An Individuals Best Six (6)3 Stableford Points Weeks During Each Eight (8) Week Session. The Overall League Champion Shall Be Based On An Individuals Best Twelve (12)3 Stableford Points Weeks From The Entire Sixteen (16) Week Season.

Entry Fee:

$75.00 Per Person (Payable: $40.00 Start of Season/$35.00 Start of Second Half)

(PAY IN FULL BY Friday, MAY 6th And Save $15.00)

Includes:

Opening Day Buffet Dinner w/1 Hour Draft Beer Open Bar (May 12th)

1st Half Buffet Dinner w/1 Hour Draft Beer Open Bar & Awards Presentation (July 21

st

)
2nd Half Buffet Dinner w/1 Hour Draft Beer Open Bar & Awards Presentation (Sep 15th)

Trophies For Winners of 1st Half/2nd Half and Overall League Champion

Note: Normal Daily League Greens Fees & Cart Fees Not Included

Pay For All Sixteen (16) Weeks Of League Fees & Cart Fees In Full By May 13th,

We Will Waive Your Give You A Give You A $40.00 Gift Certificate

Important

Dates3:

5/12 – 1st Half Registration Deadline & Opening Day Buffet

7/21 – 2nd Half Registration Deadline & Buffet

Schedule3:

Session 1:

5/12

5/19

6/02

6/09

6/16

6/23

7/07

7/14

Session 2:

7/21

7/28

8/04

8/11

8/18

8/25

9/08

09/15
1 Excluding Holidays and Scheduled "Off" Weeks.
2 A player's initial League Handicap shall be based on existing USGA handicap if available, last year's league index, and/or a minimum of two league scores; going forward, handicaps shall be based on your last three league scores.
3 Scheduled times, dates and/or number of weeks subject to change without notice due to inclement weather, hazardous course conditions or other circumstance determined, in the sole discretion of management. Players are advised to contact the pro-shop prior to arrival if such conditions exist.
Click Here For Registration Form
Please Register At The Pro-Shop During Normal Business Hours!